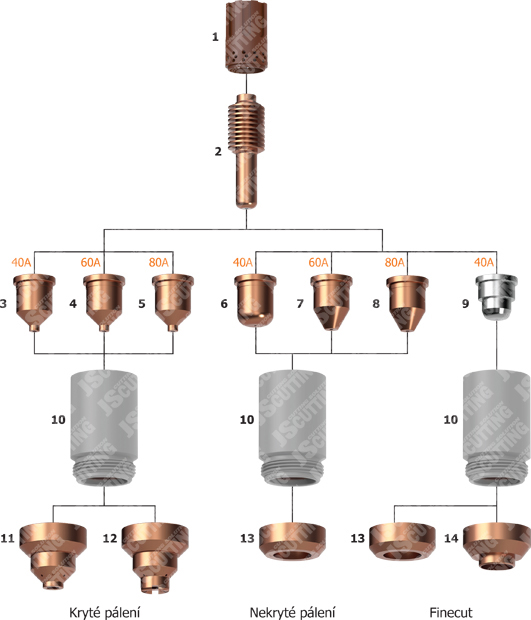 | | | | | |
| --- | --- | --- | --- | --- |
| Pos | Ref. no. | Order no. | Description | QTY |
| 1 | 120925 | J-1210 | Swirl ring, 40A/60A/80A | 1 |
| 2 | 120926AGi | J-1211 | Electrode, 40A/60A/80A, silver insert | 5 |
| 3 | 120932 | J-1212 | Nozzle, 40A | 5 |
| 4 | 120931 | J-1213 | Nozzle, 60A | 5 |
| 5 | 120927 | J-1214 | Nozzle, 80A | 5 |
| 6 | 220006 | J-1215 | Nozzle, 40A, extended | 5 |
| 7 | 220007 | J-1216 | Nozzle, 60A, extended | 5 |
| 8 | 120980 | J-1217 | Nozzle, 80A, extended | 5 |
| 9 | 220329 | J-1218 | Nozzle, 40A, Finecut® | 5 |
| 10 | 120928 | J-1219 | Nozzle retaining cap, 40A/60A/80A | 1 |
| 11 | 120930 | J-1220 | Outer shield, 40A/60A/80A/100A, machine cutting | 1 |
| 12 | 120929 | J-1221 | Outer shield, 40A/60A/80A, hand cutting | 1 |
| 13 | 120979 | J-1222 | Outer shield, 40A/60A/80A, unshielded | 1 |
| 14 | 220325 | J-1223 | Outer shield, 40A, Finecut® | 1 |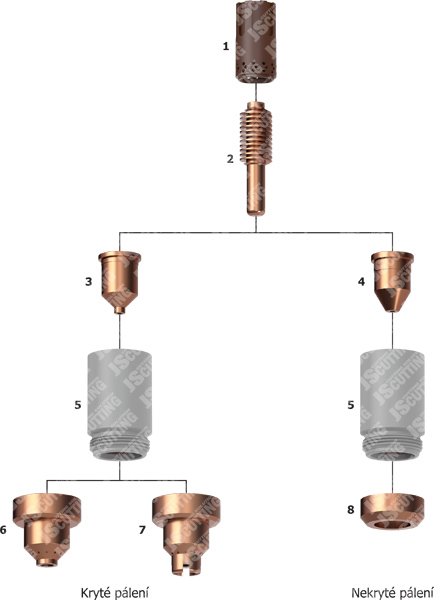 | | | | | |
| --- | --- | --- | --- | --- |
| Pos | Ref. no. | Order no. | Description | QTY |
| 1 | 220051 | J-1224 | Swirl ring, 100A | 1 |
| 2 | 220037AGi | J-1225 | Electrode, 100A, silver insert | 5 |
| 3 | 220011 | J-1226 | Nozzle, 100A | 5 |
| 4 | 220064 | J-1227 | Nozzle, 100A, extended | 5 |
| 5 | 220048 | J-1228 | Nozzle retaining cap, 100A | 1 |
| 6 | 220047 | J-1229 | Outer shield, 100A, machine cutting | 1 |
| 7 | 220065 | J-1230 | Outer shield, 100A, hand cutting | 1 |
| 8 | 120979 | J-1222 | Outer shield, 40A/60A/80A, unshielded | 1 |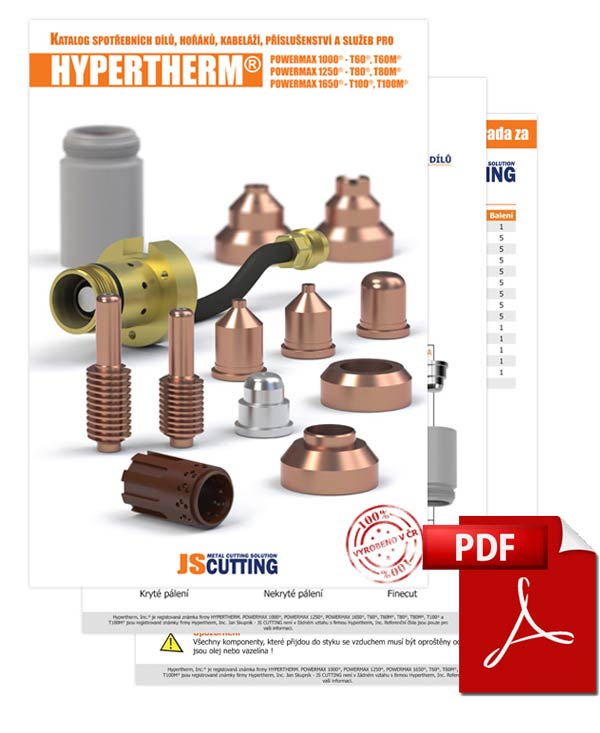 Full compatibility Our production is fully compatible with OEM consumables, torches and lead sets. You can simply change the OEM part to our and continue with cutting process.
Legend OEM original part. NS not shown.
Warning Setup of cutting values like for example gas pressure, cutting speed, cutting height etc. Must be always consulted with plazma source original manual !
Warning All components what come into contact with air must be clean out of any impurity like oil, vaseline and other !
Hypertherm® is registered trademark of HYPERTHERM, Inc. company. POWERMAX 1000®, POWERMAX 1250®, POWERMAX 1650®, T60®, T60M®, T80®, T80M®, T100® a T100M® are registered trademarks of Hypertherm, Inc. company JS CUTTING, s.r.o. is in no way affiliated with Hypertherm, Inc. company. Reference numbers are for your convinience only.